We believe in the power of brands,
their potential for development
and their ability to adapt to
new public expectations.
Expertises
Brand strategy

Brand platform
(re)Positioning
Branding

Trends

Advertising

Activations

Brand content
5 PARTNERS,
4 DIMENSIONS
5 PARTNERS,
4 DIMENSIONS
Management

Nicolas Boccaccio
David Aït-Ali
Founders
Managing partners


" GIVING IMPACT TO THE BRAND ON EVERY TOUCH POINT "

A brand in motion is a brand that delivers dozens of touch points at the right time and with the right message. 15 Client Directors and Project Managers to ensure this and to support brands over the long term and advise them on all their challenges.

STRATEGIC PLANNING

Aude Legré
Dir. planning Stratégique
Fondatrice
Bureau de Tendances STRATEGIC PLANNING DIRECTOR
Founder
Trends office


" USING TRENDS TO PUT BRANDS IN MOTION IN THE RIGHT DIRECTION. "

A 6-members strategic planning team to anticipate the next move. An integrated trends office that gives the brands we work with a head start on the developments that could impact them today and in the coming months.

Creation

Gaylord Brossard
Creation director


" IT'S ALL ABOUT GETTING THE BRAND NOTICED AND TURNING THE DANCE FLOOR UPSIDE DOWN. "

No motion without idea. No idea without creatives as much involved in the conception as in the execution. It is the main dimension to our agency, working hand-in-hand with the trends office and the in-house production.

Production

Alexandre Archenoult
Production director


" Because you're launching your campaign today. And because tomorrow will be too late. "

An in-house production (from pre-production to post-production) that guarantees agility and prompt response to the brands we work with, still with high craft expectations.
Approach
Putting brands in motion means being able to capture and anticipate what surrounds us.

We have implemented a listening methodology based on the analysis of data from your communities in real time.
From the end of the street, to the end of the world, our eyes and ears are wherever your communities are.
Brand activists
60 talents
serving brands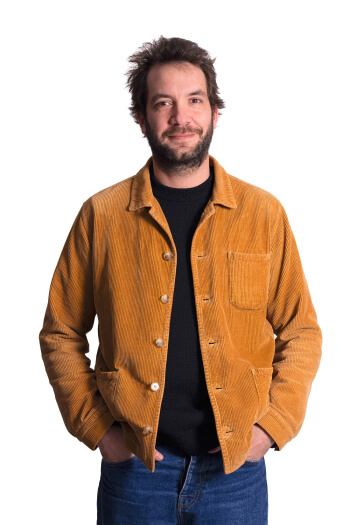 Alexandre
Dir. de clientèle
skills
Pitch fr
Social media
SCE